ABOUT COLORADO SHADES
Join The 1000s of Satisfied Colorado Shades & Awnings Customers
COLORADO SHADES is your local resource for your interior design needs, including window coverings, Retractable Awnings, Curved Glass Sunroom Shades, Hunter Douglas Window Shades, Exterior Canopies from trusted brands such as Hunter Douglas, and Sunesta Awnings. Count on the knowledgeable – and friendly – professionals at COLORADO SHADES to coordinate your decorating project from start to finish.
Our distinctive service includes the best national brands, professional measuring, experienced installation and stylish design, all provided with a local flair since we are independently owned and operated.
COLORADO SHADES has proudly served the Ft Collins, Boulder, Jefferson County, Denver Metro, Castle Pines, Douglas County, Castle Rock and Colorado Springs areas since 1986. Whether your priority is energy efficiency, privacy or room darkening, ease of use or child and pet safety, you can count on the design team at COLORADO SHADES!
You'll find everything you need to transform your living space into your dream home.
Call Us Today at (303) 919-5156
Sunesta Photo Contest Winners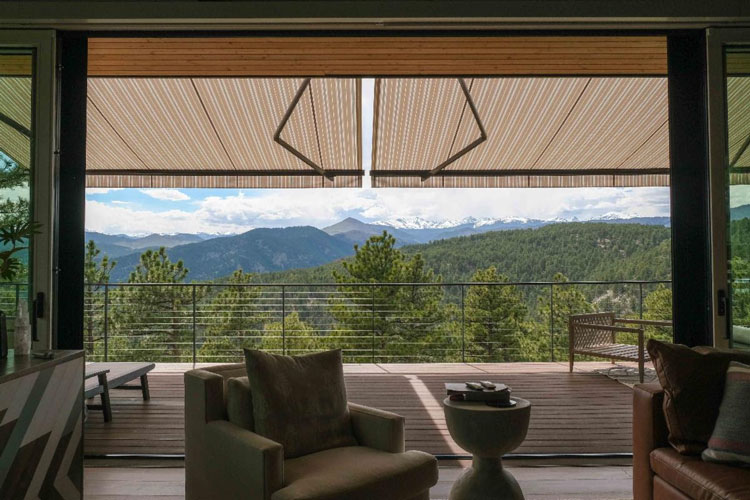 Category: Awnings
Winner: Colorado Shades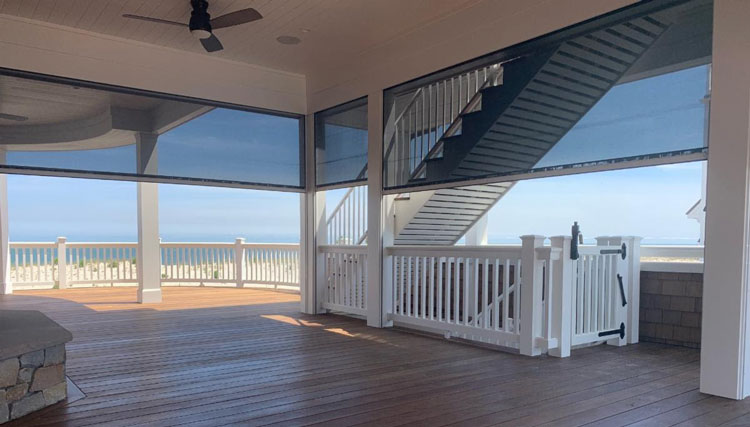 Category: Screens
Winner: Giglio Awning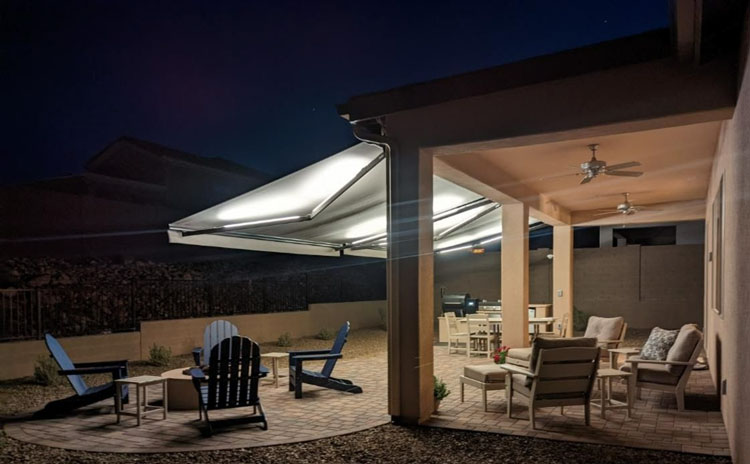 Category: LED Lights and Black Awnings
Winner: Future Enterprises
2021 Sunesta Excellence Award winner – Dealer of the Year (Southwest)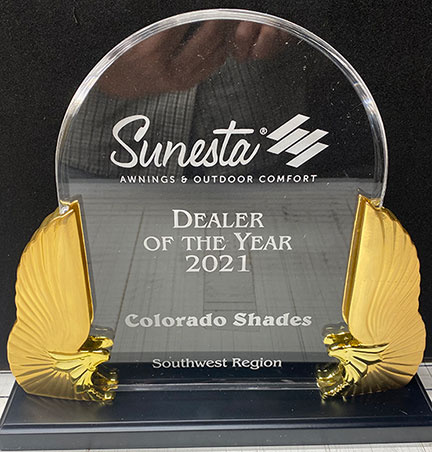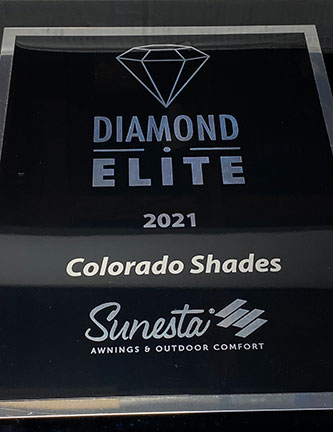 2020 Sunesta Excellence Award winner – Dealer of the Year (Southwest)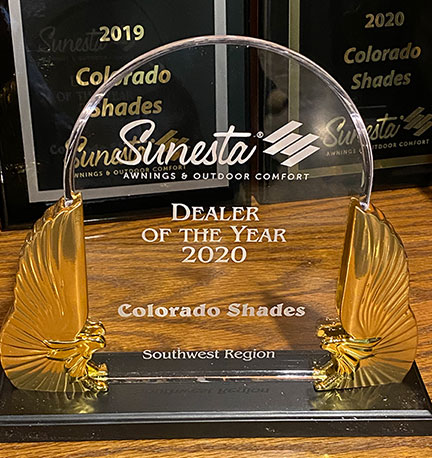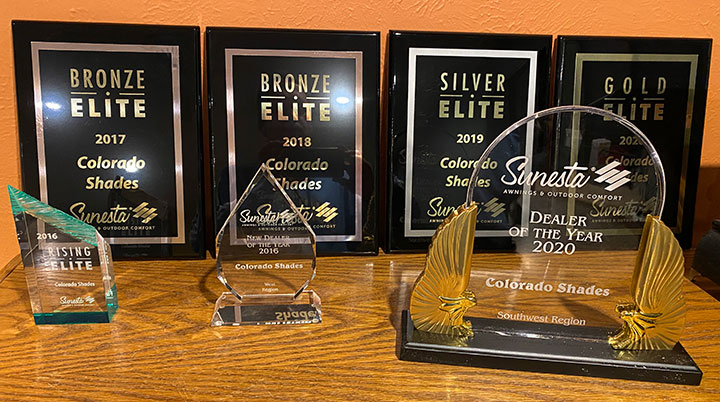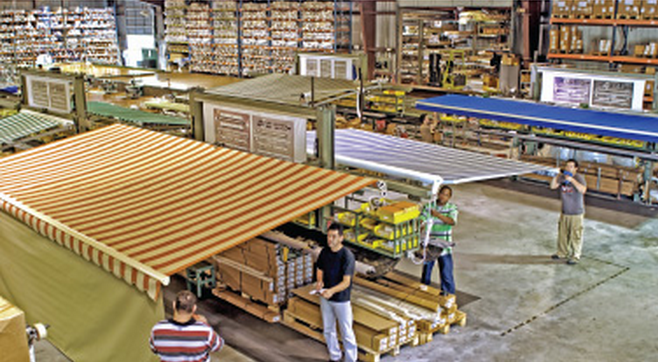 ABOUT SUNESTA
Why Colorado Shades Uses Sunesta to Manufacture it's World Class Awnings:
Custom made
Quality design & construction
Many options to suit your needs
Large fabric selection
Fast delivery
Excellent service
A reputable leading manufacturer partnering with a local professional dealer
As the pioneer in manufacturing customized retractable awnings, Sunesta offers unmatched engineering for perfect performance. Since 1981, we have led the industry in technological advances, and continue this tradition of engineering excellence in all our products. Every component, feature and option is designed with this focus on innovation.
Sunesta's in-house experts partner with other component specialists and engineers around the world to ensure our awning systems offer best-in-class technology. We invented the process of computer-aided awning manufacturing, and our proprietary equipment and processes ensure precise customization with the industry's fastest turnaround time.
For you, this means your awning is perfectly crafted by our team of experts with attention to every last detail.
Only Sunesta Retractable Awnings are branded with a unique order number. We call it the SmartCode™ – your awning's individual I.D. number. Through the SmartCode system we keep your custom order details and specifications in our database, allowing us to answer product questions and provide updates regarding your individual awning. We have a SmartCode on file for each awning produced, for instant, customized service.